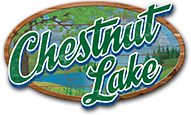 Welcome
Welcome Home, Campers and Families!
We hope that our current camp families find the resources on our website to be helpful. You can access the gateway to our MyCLC system and use your login credentials to access forms/documents, view photos and videos, and check out other updates during the summer. You can even use the new Campanion mobile app (available for iPhone and Android) to do the same from your phone, tablet, or other device.
A new page with many helpful links — our Chestnut Essentials — is also at your fingertips so that you can be ready for every aspect of the upcoming season at camp. This includes great insight for first-time families, in particular.
We can't wait to see you this summer!
Think Camp!
Ann & Aaron


By Aaron Selkow Apollo joined our family in 2017. We had previously rescued two other dogs, and both had been special. But Apollo's impact on our family was incomparable. He was born in South Carolina, horribly abused, and thankfully saved by a rescue organization in Pennsylvania. Ann looked into those soulful eyes in a photograph […]

Read More...

[Did you see the Second Session/Week 3 video yet? Click here to watch it!] By Aaron Selkow, Owner/Director One summer about 30 years ago, a close friend of mine from camp told me about his summer job. We had moved on from the summers we spent together as counselors and before he started medical school, […]

Read More...