In 2010, Jack Gordon attended Chestnut Lake Camp for the very first time.  When he arrived home to Potomac, Maryland after the summer, he shared his amazing experiences with his younger brother, Henry.  Henry started counting down the days until he could attend Chestnut Lake!
Jack and Henry have two cousins, Ella and Sophie, who live in California.  Ella and Sophie starting hearing all of Jack's great CLC stories.  Just like Henry, Ella and Sophie also started getting the CLC fever!  Living on opposite coasts, the cousins didn't get as many opportunities to get together as they'd like.  Their parents started talking about the possibility of them spending their summers together at Chestnut Lake Camp.
In 2012, Henry, Sophie and Ella all started their first summer at CLC with Jack who was starting his third summer.  Now, every summer they have their own family reunion at Chestnut Lake Camp.  We recently spoke with all 4 cousins and asked them to tell us about their CLC experiences and what it is like to spend time with each other at camp.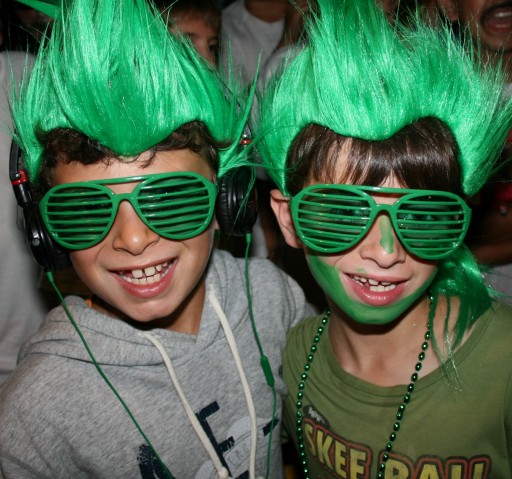 Jack
Hi, my name is Jack Gordon, and I live in Potomac, Maryland. I really enjoy playing tennis and jumping on the trampoline (just like my brother). I go on the trampoline all of the time and practice flips and other cool and fun tricks.
I knew that Chestnut Lake Camp was right for me when my mom actually gave me an option of two camps. I saw both of the camp videos and they seemed really fun, but something about Chestnut Lake made me want to go there. Generally, I am terrible at making decisions. However, this time I didn't even think about my decision because I knew I wanted to go to Chestnut Lake Camp. Once I got to camp, I saw all of the counselors greeting me with smiles on their faces and I knew I had made the best decision of my life!
My cousins, Sophie and Ella, live all the way on the other side of the country so I don't get a chance to see them very often. Camp is the one time of year that I get to connect and communicate with my cousins face to face. Since Sophie is in the same age group as me and Ella is in the same age group as my brother Henry, we often get to talk and see each other. I also participate in tennis camp along with my cousin Sophie, which is a fun way of interacting and catching up with her. There is also another time that I get to be with my brother and cousins. This is at the "sibling cook-outs" which happen every so often during the summer. We get to eat together and talk about things we have enjoyed doing so far and new people we have met. Being able to see my cousins at camp makes camp even better than it already is.
Favorite Song: "I'm On Top of The World" by Imagine Dragons
Favorite Food: Hamburger
Favorite TV Show: The Voice
Favorite Camp Activity: Apache Relay
 Henry
My name is Henry Gordon. I love soccer and to jump on our trampoline. We have two Goldendoodles. One of them is a puppy. I love to play with them even though the puppy gets a little crazy sometimes.
I knew Chestnut Lake Camp was for me because I went to visit my older brother, Jack, one summer. I got to sleep in his bunk with him and do the activities with his group for one whole day. I wanted to stay for the rest of the session, but my parents wouldn't let me.
After my cousins, Sophie and Ella, found out how much my brother and I loved Chestnut Lake, my mom and my aunt decided it would be so great to have us go to camp together. I don't get to see them that much because they live on the other side of the country. I like having them at camp because we get to have some of the same friends and do activities together sometimes.
Favorite Song: "Talk Dirty to Me" by Jason Derulo
Favorite Food: Ribs
Favorite Camp Activity: Tribal
Sophie
Hi, my name is Sophie, and I live in California. I play tennis and soccer and I love to draw, read and play tether ball in our backyard. One year, we were at our cousins' house in Maryland on a visit, when my aunt started to tell my sister and I about Chestnut Lake. Later that day, Paul came and talked to us about coming to camp. Instantly, we were hooked. That summer, off we went to Chestnut Lake. Now, I am in my third year there, and still loving it. I couldn't be happier with my decision.
Going on my first bus ride from Maryland to Pennsylvania, I remember being stressed, nervous and excited. As soon as I walked through the tunnel of counselors, I immediately fell in love. I knew that this was going to be a fantastic three weeks.
Not only is camp such a fun thing to experience, but I also get to see both my cousins, Jack and Henry for three weeks. Living on opposite coasts makes it hard to see each other more than once or twice a year. Now that we both go to camp, I see them a guaranteed three weeks per year. It is so fun having them around and getting to spend time with them because we always have such a great time together.
Favorite Song: "Drops of Jupiter" by Train
Favorite TV Show: Modern Family
Favorite Camp Activity: Tribal, especially Apache Relay and Rope Burn
Ella
Hi, my name is Ella, and I live in California. As hobbies, I love to play soccer and tennis. I also love to read and play with my friends and family.
I found out about Chestnut Lake Camp from my two cousins, Jack and Henry, who live in Maryland. They had gone to Chestnut Lake, and told us all about the fun times and cool activities they had at CLC. I wanted to go, too! In previous summers, my sister and I had gone to a Camp in California that we also loved, but I loved all the activities that Chestnut Lake had: water skiing, zip-lining, plays and more. Finally, we convinced our parents to let us try CLC even though it was across the country. We loved it even more than we thought we would!
As soon as I arrived at Chestnut Lake Camp, I knew that it was right for me. Chestnut Lake has the most amazing, nice counselors that you will ever meet. They think of super-duper fun activities to do every day. There is always time to write home to your parents if you are feeling home-sick , and unlike every other camp, Chestnut Lake allows everyone to call their parents two times within three weeks!!!
Camp gives me a cool way to see my cousins more than I normally would. I get to see my cousins (Jack and Henry) after lunch, when we play, and when we are moving between activities. I love having my cousins, sister and best friend at camp with me because they comfort me when I'm feeling sad, homesick, or if I just want a bit of family around.
Chestnut Lake also has visiting day!!! I love visiting day. It is too far for my parents to come from California, but my aunt and uncle do visit us and let us Skype our parents. It is really cool to spend the day with my aunt, uncle and cousins!!
Favorite Song: "Happy" by Pharrell Williams
Favorite Food: Pasta
Favorite TV Show: Jesse or I Didn't Do It
Favorite Camp Activity: Lake, especially the trampoline