[Did you see the Second Session/Week 3 video yet? Click here to watch it!]
By Aaron Selkow, Owner/Director
One summer about 30 years ago, a close friend of mine from camp told me about his summer job. We had moved on from the summers we spent together as counselors and before he started medical school, he had taken a gig working with a trucking company. He described the job as lugging trunks and duffel bags all over the East Coast in the summer heat. The company was called, "Camp Trucking." My friend went on to become a prominent physician and the Associate Dean of Admissions at a terrific Medical School. Camp Trucking went on to have a 34-year run until they went out of business on August 3rd. In the middle of a camp session. Without giving any notice. While keeping lots of money from parents.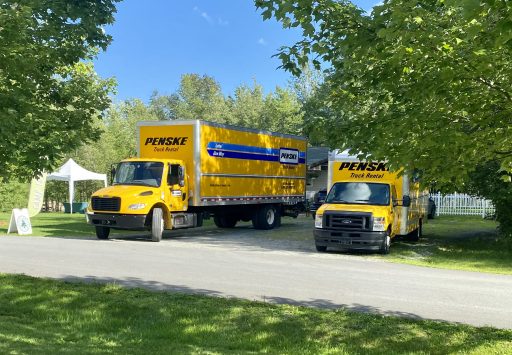 If you have not already heard about the sudden closure of Camp Trucking just over one week ago (click here to read the NYT piece or click here to read a funny piece from "Daily Camp News" on the subject), it's likely to be the story of the summer for the camping industry. And that's a very good thing, to be honest. Camps are places where challenges are very much part of the experience and mishaps that get told and retold (often these are sensationalized) can be far more serious. In this case, it's a story about a company that got in over its head after many years as the leader in this niche service to camp families helping to ensure that their bags would get to and from their child's camp. Chestnut Lake Camp had stopped pushing Camp Trucking last year as the only recommended option after we started to sense that the company's service to our families had become a bit inconsistent, but we also embraced their leaders to partner on better strategies and enhanced service to our shared clients. This was obviously to little avail, and when the company sent an email to us (five minutes before sending a similar one to camp families all over North America) we were not so much shocked by the announcement that they had gone belly-up as much as the timing of their admission of failure. Like most camps impacted by this, we were less than two weeks from the end of our summer and we had over 300 bags at camp that were meant to be delivered by Camp Trucking home.
This absurd turn of events was a gift to our leaders at Chestnut Lake. We relish the opportunity to find solutions and we thought this would be a good test of our mettle. As we immediately began to craft a strategy, our staff (big Shout Outs to John, Alex, and Sam, along with a seamless partnership as always with Marc and our friends at Trail's End Camp) came up with great ideas and swiftly secured resources. Before 24 hours had elapsed, we had a good sense of how we would get those bags back to our families.
The most important thing about this process what not the development of a sound process nor the dedication to doing all of this at no cost to our families, it was actually the fact that while we handled this challenge we never stopped focusing on the most important concern: camp. Campers don't care how bags get delivered, and the staff that care for the kids care even less about the bags. They only care about each other, and they care a lot about having fun. So that's what we've kept doing while a few people rented trucks, bought luggage tags in every color imaginable, made all sorts of lists, and negotiated door-to-door bag delivery for New York City and Florida (where it's impossible for us to have bags go to a centralized location reliably). This session that is soon winding down will be remembered as a spectacular one, not the one about Camp Trucking. Who really cares anymore about Camp Trucking (besides the parents that will hopefully someday get some money back from them)?
Tomorrow we will say goodbye to the kids that have experienced three or seven weeks of camp, and it will be hard to do so. The hugs and fist bumps will come with many tears, and then it will all be over for 2023. I always look forward to that last morning of emotion, as it gives us all a chance to release and share the love that we have harnessed for the summer one last time before heading home. But I will not be able to have that moment tomorrow, and I will miss watching each and every child get onto a bus or picked up by their parents. I will miss all of that because I will be driving a Penske box truck filled with bags to Philadelphia.
Thank you, Chestnut Lake Camp, for giving me the gift of a truly awesome summer.