[Did you see the Week 4 video yet? Click here to watch it!]
By Aaron Selkow, Owner/Director
The final week of a camp session always makes me feel sad. I think about the time spent and how wonderful all of the great moments have been, but I also get stuck on some of the things I wish were different. I can dwell on some pretty ridiculous things. Let's take the weather, for instance. Last summer we made it through seven weeks of camp without so much as one "Rainy Day." This year? Over the last four weeks, we did not have more than 3 days in a row without rainfall. Our terrific program/experience team somehow kept everyone having fun despite the forecasted and unexpected conditions. The grounds on our gorgeous property resemble a construction site in some spots, and our parents will undoubtedly see some muddy shoes and socks when they unpack our campers arriving home tomorrow. Then there are the mistakes. I'm a big believer in the importance of messing up and have long felt that there's no better place to fall down than at camp. But with only four weeks (or three) to deliver the spectacular outcomes that Chestnut should, a missed moment or a botched opportunity could feel like a catastrophic error. The end of the session makes me think about how much better we can do. And then – just in time – something always seems to happen in those last days that reminds me of how insignificant the weather and the mistakes (and the other challenges) are compared to the monumental power that is generated here in Beach Lake each summer.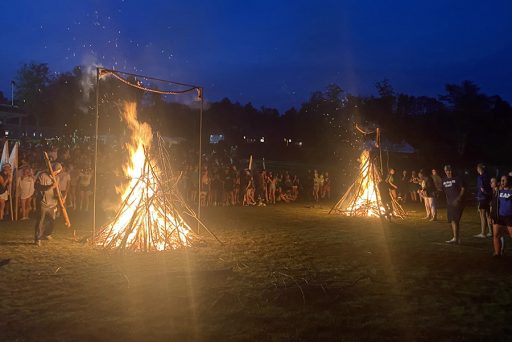 As we gathered as an entire community to close out the competition between our Unami Turtles and Minsi Wolves Tribal teams last night, we were treated to just such a special moment. Minsi was off to a very good start, and it seemed clear within 30 minutes of the Rope Burn's start that they would likely walk away with the win. Burning a very thick rope that's suspended ten feet in the air is not an easy task, but their early efficiency at getting a fire built from scratch into one that was reaching the rope made them appear to be the favorites. Unami caught up with a great deal of hard work, but they seemed still to trail. The teams seated in front of the bonfires were in constant cheers, especially hyped because they were told before the start of the event that relatively few points separated the two teams after three days and the winner of this last activity would win Tribal. Minsi's fire grew even bigger, and as time passed, Unami's chances to come back waned.
Minsi's rope fell, and their teammates erupted in celebration. As you would expect, Unami's enthusiasm sank. But they had to keep pressing on – it is a Chestnut tradition that the competition is not over until both teams burn their rope. Ten minutes passed, Then ten more. And then there was a shift. We suddenly went from watching a team going through its paces to finish off a second-place effort to a display of how one camp can come together.
Without an audible request for help, the fire-building team from Minsi began assisting their Unami brothers and sisters. Wood from one pile went to the other fire. Unami fire-builders were able to take a brief break to be hosed down after the longest Rope Burn effort in memory. Then there were Minsi staff – people that had been seated or standing in the crowd – also assisting. At some point, there were not two teams helping each other to burn a rope; friends were doing something together in a way that modeled what we try to inspire and reinforce at Chestnut.
The Unami rope fell. It was 90 minutes from when we began. The Unami and Minsi leaders collapsed into each other's arms. The crowd cheered for them all. And though the Minsi team was announced as the Tribal winner by virtue of this last competition, the true winner was camp. Camp won.
I love the end of the session. It's the best part of the summer. You forget the hardship, you leave behind the hard feelings, and you remember that the things out of your control like the weather and making mistakes are not worth worrying about any longer. The session is about the moments that make you feel good about yourself and the people around you. That's what camp is.
On behalf of our family and the dedicated leaders of Chestnut Lake Camp, we thank you for an extraordinary First Session. Here's to another great session starting soon. We love you.