One of the most highly anticipated traditions at Chestnut Lake is our Tribal Campfire. All of the returning campers and staff deck themselves out in either green or white, while the new campers and staff anxiously wait to find out which Tribe they will be on.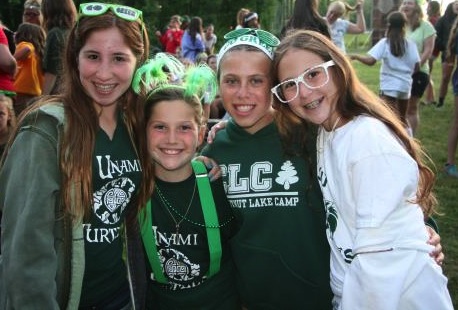 But before we officially started Tribal Campfire, we announced our Community Service Award winners. Each week, campers and staff turn in Community Service Nominations for someone in camp who they feel represents everything Chestnut Lake Camp stands for. The campers and staff whose nominations are chosen, read them aloud to the whole camp and then announce who is receiving the award. While the recipient is always thrilled to have their name called, what makes this such a special CLC tradition is that the person who gives the award is even happier!
Once the Community Service Awards were finished, it was on to Tribal. The new campers and staff went to the lake and recited the Tribal Oath. When they walked back up to the campfire site, they were surprised to find the Unami and Minsi teams lining both sides of the path. At the campfire, each division was called up, and as they faced the campfire, they received one stripe of their new Tribal team's color on each cheek. As they waited anxiously, they were told to "face your new tribe". Every time a new division turned around, their new team was there to welcome them. Now the Unami Turtles and the Minsi Wolves can't wait for the first Tribal Competition!