At the end of every summer as campers return home, they always have many stories and special moments to share from their summer at Chestnut Lake. We thought it would be fun to connect with some of our first year campers and find out first hand about their summer at camp and what they loved the most about CLC.
First up is Drew Bick who attends camp with his brother, David.
"My first summer at CLC was awesome. I had great counselors and a great Division Leader named Mike. My favorite part of camp was going to the Lake. There were so many fun inflatables like the blob, the swing and slide. All of our evening activities were awesome: some are shows, some are talent shows and some are sports. My favorite activity was fruit ninja. Your counselor throws you a water balloon and you try to hit it with a baseball bat-whoever hits the most wins. Paul and Debbi are great. There are a lot more activities at CLC than what I told you like all kinds of sports and free play time. And the food is great!  That's why this was my best summer!"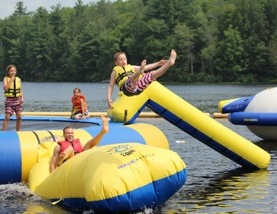 Next up is Claire Lenkin who attends camp with her brothers, Ethan and Noah.
"For my first summer at CLC, I was in lower Yazhi. My favorite activities were Lake and OA (Outdoor Aventure). The Lake is SO much fun. You can go tubing and waterskiing!! They also have paddleboarding, fishing, a blob and a rope swing on the water trampoline. During Visting Day, your Dad can blob you very high!! My Dad blobbed me 10 feet in the air!  At OA, you go on the humongous zip line and the flying squirrel. They also have archery and rock climbing.
Another exciting part of the summer was when I found out which Tribal team I was on. I am a Minsi Wolf. One of my favorite parts of camp was Tribal. There are lots of fun activities like Apache Relay  and Rope Burn!  For one of my night activities, we went on a cookie hunt. Also, if your parents don't let you stay up late at home you can stay up at camp! You also have a special snack in bed called Midnight snack. During Midnight snack you can read during "Flashlight Time". Flashlight time is just time when you can read, whisper with your friends or doodle with your flashlight.
If you have siblings at camp sometimes at lunch there is a sibling cookout so you can eat lunch with your sibling. I had 2 older brothers at camp – Noah and Ethan.  One time in Arts and Crafts I made a wooden letter holder. In art and crafts there is sewing, woodworking, cooking and video. Also in sewing you can make pillows.  I can't wait to go back next summer to see the new friends I made at camp. I loved my  counselors and Chestnut Lake!  That's why this was my best summer!"